Welcome to Our Practice
Salem Dentistry is pleased to welcome you to their award-winning Bennington dental practice. Dr. Justin Salem has been voted Best Dentist in the Bennington & Manchester area for 13 consecutive years!
Over 40 years ago, Dr. Salem's father, Dr. Charles G. Salem, began providing dental care at 107 Elm Street in Bennington, VT. Dr. Justin Salem joined his practice in 1995 and they worked together until his father retired in 2002. Dr. Justin Salem continues to operate his practice at the same location and with the warm and caring approach that his father instilled in him.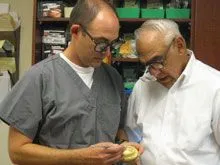 At Salem Dentistry we are proud of our carefully selected, highly trained and motivated staff. Our friendly staff will make you feel right at home. We look forward to meeting you and hope that we can provide you with the most modern dental care available in a superior clinical setting. You will experience traditional values, restorative dental care, and advanced cosmetic care that looks and feels incredible.
Please take a few moments to look through this site t o get a better feel for Salem Dentistry's capabilities and services. We also invite you to email or call our office at any time to request an appointment or ask any questions. Thank you.
---
Now Offering: